Golf Practice Fundamentals – How to Make the Best of Each Session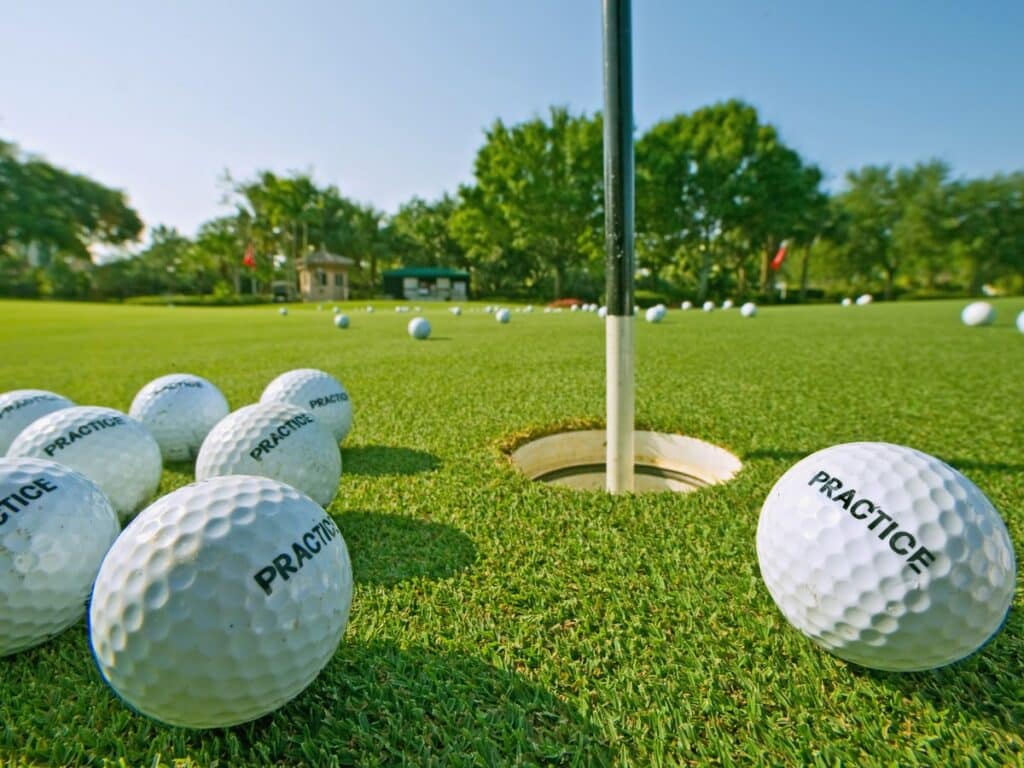 How many times have you gone to the driving range to work on your game, only to leave feeling frustrated? Feeling like you didn't get better and actually might have regressed?
If so, just know that you're not alone. 
Golf is arguably one of the most challenging sports ever and frustrates even the best golfers. Whether you're a 30 handicap or PGA Tour professional.
The key to getting better for the long run is to improve your practice sessions. 
That doesn't mean hit more balls though. Because a large percentage of golfers practice the wrong way and then wonder why their scores don't drop. 
To shoot lower scores consistently and decrease your handicap, you need to upgrade your practice sessions. Here are five strategies to help you make the most of your practice time to shoot lower scores. 
Create a Practice Plan
As Gary Player said, "The harder your practice, the luckier you get." And I agree… to an extent. 
Don't get me wrong, practice is 100% necessary to becoming a better golfer. But it's about practicing correctly so that you maximize your time and actually get better.
Here are three practice rules that will help you create a world-class practice plan: 
Plan Ahead 
I've found that getting the most out of your practice session is a lot like getting a great workout in at the gym. You need to plan in advance, so you make the most of your time. 
Before each session, decide how long you will practice and stick with it. Then, decide if you are working on the full bag, woods, irons, wedges, short game, putting, or a combination.  
Learn to Focus
The ability to focus on one thing at a time is getting increasingly harder with smartphones and people being busy all the time. But if you want to play great golf, you need to learn the art of focus.
One way to train your "focus muscle" is to only think about your session on the range. 
Don't text or mindlessly scroll social media; instead, train your mind to focus on the task at hand. This will help you make the most of your session and help you play better on the golf course. 
Don't Base Your Success on Length of Session 
This is the part where I slightly disagree with Gary Player. A longer practice session doesn't always mean it's a better one.
Sure, sometimes you need to hit more golf balls when you're training a new part of your swing. But I've also had wildly successful sessions that were only 20 minutes long. 
So please, do not judge your session based on time! 
Divide Your Practice Time Up  
The second golf practice tip is to divide your session up. One of the worst things that so many golfers do is only hit range balls with the same club, over and over again. 
Newsflash: you don't get better by hitting 40 7-irons in a row every single time you practice. 
That would never happen on the course, and it's an easy way to ingrain bad habits too. Instead, break up practice into four sessions to help all parts of your game. 
Block Practice
Block practice is where you only work on 1-2 swing changes. The point is to train your mind and body through repetition. Use this sparingly and mostly when making swing changes so you can trust your new swing on the course. 
Routine Practice
The second type of practice is what I call routine practice. During this time, you go through your full shot routine with every golf ball. 
From picking a target, committing to a shot, taking practice swings, and more. The goal here is to create an effective pre-shot routine to help you on the course!  
Random Practice 
Random practice is where you never hit two shots the exact same. Whether you're on the driving range or at the short game area, mix it up! 
This will help keep your brain engaged and mimic what it's like on the golf course.
Competitive Practice 
The final type of practice is great if you play competitively or want to start entering tournaments. Find a friend and place some small bets on the range or the putting green to get your nerves involved. This will make it easier for you to feel confident playing in events and get your competitive juices flowing. 
Work on Your Short Game 2:1 
The third practice tip is to spend 50% (or more) of all your practice time working on your short game. Phil Mickelson once said, "The only way to win tournaments is with the short game. Over half your shots are within 30 or 40 yards."
Yet, most golfers focus on irons and woods during practice and wonder why they aren't improving. 
Spend as much time as you can working on your wedges and putting. 
Because even if you have an "off" day ball striking, a great short game can help you still score well. And if you're hitting it great that day, your short game can help you maximize your long game to shoot your best scores yet. 
Before heading to the practice see, divide up your practice time so you're working on 125 yards and in double your long game. Trust me, it will pay off! 
Focus on Three Clubs 
Golf really comes down to three clubs; putter, sand wedge, and driver. If you can master these three clubs, you will become a much better golfer.
Obviously, the putter and wedge are important because most shots happen inside 100 yards. And your driver is important because you use it 10+ times per round and sets up the rest of your game. 
Master these three clubs and watch your handicap drop like never before. 
Spend 80% of Practice on Your Weaknesses 
Finally, make sure you spend the majority of your time on your weaknesses. 
After reach round, track your stats or do a mental review of what parts of your game held you back. Then, during your next practice session, spend a lot of time on that area. Eventually, you will turn your weaknesses into strengths and become a more well-rounded golfer. 
Final Thoughts 
Every golfer wants to get better, but sadly, most of them don't practice the right way! To make the most of your session, follow these five rules to get the most out of your golf practice time. 
Create a practice plan for each session. 
Mix up practice sessions to keep your mind active. 
Work on your short game twice as much. 
Master three clubs to develop consistency. 
Work on your weaknesses, so no shots scare you on the course. 
Finally, stay patient and trust the process. 
Even if you get 1% better every day, you will make massive strides in the next few months and years.